While your here, you will want to see the transformer car shown above. More pictures of it are online at The LGB Model No 4058 a donation by Tim Gurnsey.
The photo at the top of this page is from the east end of Kingman Canyon at Kingman, Arizona. Hualapai Mountain Road crosses over the tracks at this point. The canyon extends for about 15 miles through downtown Kingman and then on toward the southwest.
There are many great photographic points along the way for those who enjoy photographing trains. Did you know Kingman has a rich history with the railroad? There is lots to do and see in Kingman and once you visit you most likely can imagine living here. Check out AllAboutKingman.com
The Kingman Canyon Railroad was conceived by Lary Stover in 2015 as a tourist attraction for Kingman. Lary is a website designer who has created many websites for clients as well as promotional websites for Kingman, Mohave County, Arizona and the USA. Among his websites are over 45 websites about Kingman and 18 websites about Route 66. There are also Arizona, Nevada and national websites for you to enjoy. See them all at InternetMarketingServices.info.
Lary suggested the concept of Kingman Canyon Railroad to Tim Gurnsey who quickly came on-board as layout designer, construction superintendent and technical advisor. Tim has years of experience as a general contractor and electrical contractor. Henry Varga has now come on-board with the special talents of a CPA who has many years of non-profit accounting. Henry will serve as our CFO. All of us have enjoyed model trains since childhood.
In September of 2018 the Ramada Inn here in Kingman gave us permission to install a G scale layout at the front of the property. We have more than 250 feet of outdoor track planned with several different loops of varying length of track in our temporary layout. Special consideration will be given to installing track with 16' radius to permit the running of a big boy locomotive.
We also have the use of 1 acre of a private lot with plenty of off-street parking. We are planning for a train shed which we will use to gather and store for future use rolling stock, track, switches, signaling, lighting, buildings, scenery, figures & accents.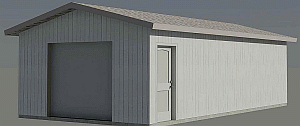 A new 20' x 30' building is being added to use as a train shed. Image at right was the first concept.
Shown below is where we are headed.